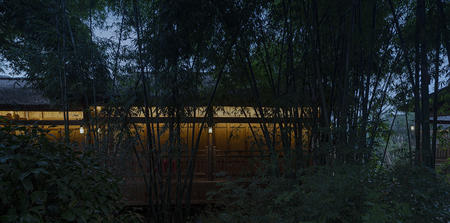 ---
Ahn Luh Guantang Resorts and Residence
Beijing PRO Lighting Design Co.
---
With " hidden light " as the guiding theme, the designer has conceived a unique spatial rhythm and temperament to emphasize AHN LUH Resorts and Residences' refined atmosphere.
Modesty is the correct attitude for the deployment of light in space. Rather than glaringly illuminate, the designer must capture the subtle aura of the space's essence. With the aid of structure, texture and form, the designer restrains the light to reveal the hotel's authentic aspect, bestowing an effect of natural integration. During the day, light illuminates and merges into all things, inspiring travelers to perceive the panoply of life's richness. At night, light is ubiquitous by its absence, deepening our appreciation and admiration for the world's mysterious beauty. At AHN LUH Resorts and Residences, both natural and installed light seem at once absent and omnipresent. This is a design strategy, a way of thinking. Here, the light does not pervade or overwhelm, but rather abides in quietude among the space's interstices, so that every traveler who comes to AHN LUH Resorts and Residences enjoys a spatial experience born of the ineffable emotions arising from scenery masterfully revealed by light and shadow.