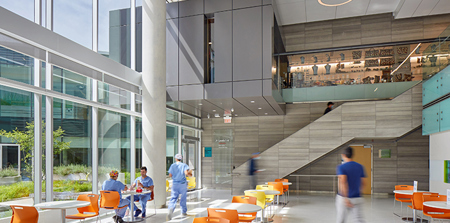 ---
Cambridge Memorial Hospital Redevelopment
Stantec Architecture Ltd.
---
Cambridge Memorial Hospital is a regional community hospital that serves the residents of the four communities that form Cambridge along two intersecting rivers. With the inspiration of river, landscape, and community, the expanded hospital shifts from a place of illness and separation to become a place of connection and wellness that unifies the communities it serves.
Completed in March 2019, the redevelopment adds over 26,600 square metres of new construction to accommodate priority programs. The addition seamlessly connects to the existing hospital and improves the human experience, achieving a truly integrated healthcare environment. It was important to the Hospital that the communities be represented in the design. The design team did significant research into the history of each of the communities. The rich masonry traditions and the textile and mill trades that abounded are represented through the strategic use of limestone, etched glass, and fabrics. The design is rooted in connection to light, views, and landscape to establish an environment of wellness. Extensive transparency in public and treatment areas connect staff, patients and visitors to the community and the beauty of the river. The program planning and adjacencies supports efficiency of patient care. The clear circulation, defined by orienting views to the river and landscape, provides for clear, intuitive wayfinding for patients and staff. The entrance lobby, accented with Ontario-quarried limestone, acts like a 'town square', orienting visitors to key departmental access points with connections to the large courtyard. The design achieves conceptual clarity through design objectives that prioritize wellness.