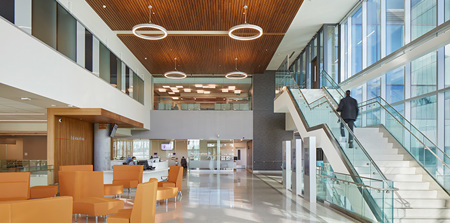 ---
Cortellucci Vaughan Hospital
Stantec Architecture Ltd.
---
As the first net new hospital to be built in Ontario in more than 30 years, Cortellucci Vaughan Hospital (CVH) creates much-needed capacity in the healthcare system, doubling access to care in the fast-growing community of Vaughan. The 111,400 square metre hospital—completed in October 2020—is the first "smart" hospital in Canada with integrated technology to allow medical devices to 'speak' to one another, facilitating a more streamlined and patient-focused experience.
Every aspect of CVH's design was examined through the lens of stress reduction and the creation of a positive, therapeutic environment. Reduction of noise through quiet mechanical and communication systems, reduction of visual clutter through minimal wall mounted devices and hallway carts and equipment. Acoustically dampened walls improve patient privacy, enabling rest and recovery. Simple circulation reduces wayfinding stress while natural light and exterior views aid in orientation. Accents of colour and wood-like elements lend warmth and comfort to the interior. The design prioritizes efficiency and infection control. For example, Surgical Services uses a unique forward flow model of LEAN patient progression where patient, surgical team, support staff, and clean supplies enter from one side and exit at opposite post-surgery. Flow is one direction―from clean to dirty, pre- to post-op―improving infection control and by proxy, patient outcomes. The hospital's design features many sustainable measures, including low overall energy use, water conservation, green roofs, and waste diversion. For these elements―and many other features―CVH achieved LEED® Silver Certification presented by the Canadian Green Building Council.