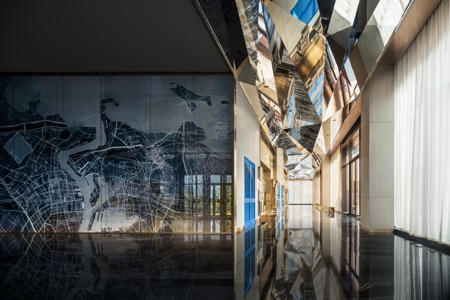 ---
Hotel Indigo Nanjing Garden Expo
Shenzhen Yang Bangsheng Interior Design Co.
---
Project Introduction: The hotel is located in Nanjing Tangshan Garden Expo, covering an area of 13,745 sq.m. YANG took over the project in June 2020 and completed it a year later.
Design Objectives: 1. To create a unique space experience and accurately interpret Indigo's neighborhood culture. 2. To make the hotel stand out from competitors in the area with its design. Design Strategy: Tangshan is rich in geological resources. In a 1 kilometer radius, there are mine pits dating back over a millennium, abandoned quarries and national geological parks. Based on that, the team decided to make the mineral ore the theme of the space. Key Elements: The adoption of colorful glass, metal mirror and acrylic creates a forest-like mood in the lobby area. The lobby bar and the ADD restaurant are inspired by bonfire, miner's lamp, and the arc shape of the tent. The lift lobby and the corridor are transformed into mini exhibition halls for exploration instruments. With the theme of "natural recovery", the guest rooms bring in forests, plants and mosses. The minibars and nightstands in the guest rooms are in the form of mining toolboxes, blended into the surroundings. Design Achievements: The team has not only designed the interior space but also created a design narrative for this project, which is the first of its kind in China for Hotel Indigo. Since its opening, the hotel has been widely praised and become a must-visit place of Nanjing.