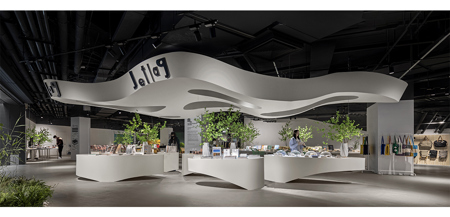 ---
Jetlag Pop-up Bookstore
WIT Design & Research
---
Jetlag Books pop-up shop is a magazine store of 500 sqm in a large shopping mall. It is a large cloud-like installation which aims to attract attention at a time when physical bookstores are disappearing in Beijing.
challenge:
Magazine stores are disappearing in Beijing, because people buy fewer hard copies of books and magazines than they used to. It is not cheap to purchase magazines or easy to store them and many people have therefore come to prefer online magazines. In an effort to attract more customers, many bookshops have combined with other businesses, such as furniture stores,cafes or flower shops.
Solution:
Jetlag Books, a bookstore specializing in the sale of magazines, faces this same crisis. A large shopping mall hoped that Jetlag Books could activate people's memory and generate enthusiasm for magazine shops by creating a pop-up magazine store combined with furnishings shops and others. The form of the roof and counter of a traditional magazine shop is translated into the form of cloud here. Clouds are fleeting and disappear easily into the sky, and this floating form of clouds is a metaphor for the ""disappearing magazine-shop"". A Cloud, is also to some extent representative of data and new ways of obtaining information."