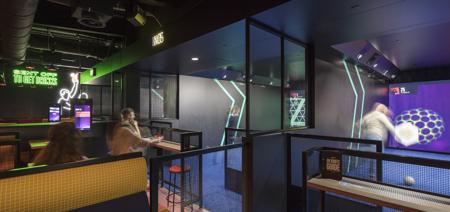 ---
TOCA Social @ The O2
Gensler
---
Gensler partnered with TOCA Social to create a new and exciting leisure offering centred around the globally adored phenomenon: football.
Located in London's iconic O2 Arena, the project represents a new entertainment concept aimed at transforming how we come together to socialise and play. The accessible and interactive football-based games will give players of all ages and abilities the chance to 'kick it' with their friends.
Materials have been carefully selected to ensure certification and reduce construction-related emissions. In the construction of the raised floor and the Gameplay Boxes, the timber utilised is FSC certified.
Paint finishes are volatile organic compounds (low VOC) not harmful to the environment and humans. Recycling was also an important factor in the choice of materials. Hence, the Forbo Vinyl flooring features 20% of recycled content and the bar tops are made from recycled plastics.
The design abstracts, extrudes and manipulates the role of linework and colour in sport to create a dynamic space that grounds the environment in the experience of play. The language of the match comes to life in the language of the spatial experience.
The sports and gaming venue boasts 17 immersive pitches, three world-class bars, two selfie booths, a desert room and a bathtub in the main area. It's a night out with friends like no other and a day out with the family they'll never forget. A true embodiment of our client's vision and appeals to a wide audience whether football fans or not."