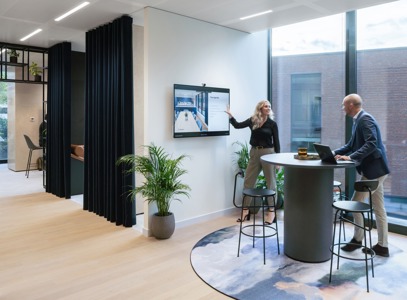 ---
Unispace Amsterdam
Unispace Global Ltd.
---
Following exponential growth, Unispace needed a larger space to house their growing team in Amsterdam while also creating an enhanced studio experience that reflected the local Dutch culture.
Amsterdam is seen as a central global destination, so our vision was to create a warm, welcoming space to host colleagues and clients from around the world. Ultimately, the key design challenge was to build a destination workplace that felt approachable and allowed visitors to drop by and work like a local, amongst the permanent team members, without feeling intrusive or crowded. The entire floorplate needed to consist of multi-functional spaces with flexible, dynamic arrangements that cater for every task and enable opportunities to cross-collaborate. We aimed to build a seamless flow throughout the space, blended with modern, Dutch design and welcoming features. The result was a Dutch-infused destination workplace to draw people in, feel welcome and work like a local.