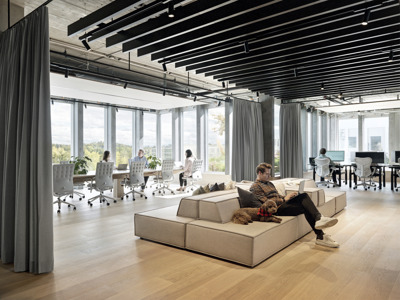 ---
Unispace, Zurich
Unispace Global Ltd.
---
Unispace in Switzerland had seen rapid success and our local team grew just as quickly. We were bursting at the seams and in need of a new studio that could act as a showroom, presenting the very best of what we could offer as a global firm creating amazing workspaces. From the moment our guests walk through the door, we wanted to create an experience with high-quality design that leaves a lasting impression. Simultaneously, the space needed to work for our people, providing various flexible spaces that allowed colleagues to be their best selves.
We used exquisite materials and finishes to create a unique experience; the sleek design combines clean lines and high-quality materials, such as the long grey stone counter in the cafeteria and symmetrical acoustic baffling in the ceiling. This contemporary minimalism echoed themes traditionally seen in Swiss design, balanced with natural wood and a soft colour palette for an approachable feel. Two large outdoor terraces are available for breaks and socialising, overlooking 80,000 sqm of parks. This green escape and scenic vista provide stunning views of the Alps for our people to enjoy; an environment where teams can be happy, healthy and productive within a bustling city. The result was a sleek, timeless space that seamlessly blended hospitality into the office. Balancing two important functions of a showroom for clients and a destination workplace for colleagues, our new studio welcomes staff coming together, maximising the best balance of happiness and productivity for our people.